2008-03-24 :: See My Blog
---
From this date forward, I'll be posting content to my blog instead of here. Eventually, I'll move all resources over, as well. Maybe this site will turn into something else.
2007-09-24 :: Presentations Available
---
I've made a number of my presentations available on-line as pdf files. You can find them on the Resources page down near the bottom, under the Presentations heading.
2007-07-31 :: JarAnalyzer 1.2 Released
---
On July 31st, JarAnalyzer 1.2 was released fixing significant bugs due related to J2SE 5.0. This blog entry describes the details. If you don't care much about what was fixed, you can download JarAnalyzer 1.2 now.
2007-07-22 :: Software & Technology Blog
---
My blog URL has changed to http://techdistrict.kirkk.com due to an upgrade from Nucleus to WordPress. I changed the URL, and the old blog site is now an archive. Be sure to visit my Software & Technology Blog @kirkk.com to find out more.
You can get all updates to my home page, old blog, new blog, and other writings found on the 'net at My Planet, which is a single aggregated feed.
2007-04-09 :: AssAnalyzer Available
---
AssAnalyzer is a dependency management utility for .Net assemblies. It's primary purpose is to analyze the dependencies between assemblies.
There are two output formats. The first is an .xml file representing the PhysicalDependencies between the assemblies, and includes a number of useful design quality metrics. The second is a .grph file that be be used with GraphViz to generate a component diagram.
2006-05-19 :: No Fluff Just Stuff 2006 Anthology
---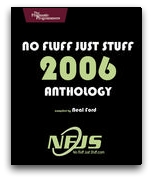 The No Fluff Just Stuff 2006 Anthology edited by Neal Ford is now available for pre-order.
The book contains fifteen chapters covering a wide range of modern software development topics. This book is a sample of the thinking that's presented at the incredibly popular No Fluff Just Stuff symposium series.
Each chapter in the Anthology is authored by a speaker on the No Fluff Just Stuff symposium, and offers remarkable insight on leading technical topics. I had the great honor of contributing a chapter on the importance of managing dependencies. If you haven't already, I'd encourage you to purchase a copy (or three).





---
JarAnalyzer 1.0 is now available. 1.0 is a major upgrade from previous versions:
Internally, the class structure and names have changed. The utility was also brought under test, and the design improved.
A stylesheet was included in the distribution that allows you to format the xml output in an easier to read format.
Metrics have been included in the output.
The Ant task now has the ability to filter packages and jars from the output and calculations.
I've done my best to update the documentation on this site. But I may have missed something. If you notice inconsistencies, please let me know. My contact information is on the about page.
2006-02-22 :: Presentations Available
---
I've posted some of my presentations and accompanying code to the Resources page for downloading. A detailed outline is also available. For ease, here are the quick links to each of the presentations.
2006-01-07 :: Blog @kirkk.com
---
I've setup a blog on kirkk.com. The RSS feed is
http://blog.kirkk.com/xml-rss2.php
You can also find all RSS feeds for this site on the RSS Feeds page.
2005-12-26 :: Site Redesign (Again)
---
I did an upgrade, and a minor site redesign. I'm working to convert some of the content from the old site, but not all of it. If you want something from the old site, let me know. The site is now more Bliki-like, with the home page serving the rss feed .